It's time you experience the power of Angelic EFT
(Emotional Freedom Technique)!
Benefits of our Angelic EFT Kits:
A great way to give EFT a try if you haven't experienced it before
An inexpensive way to have an Angelic EFT session
EFT calms the "fight or flight" response that comes with stress, worries, fears, etc.
As you release the emotions, you can get insights and/or clarity on steps to take
Trust in the Divine plan and all that is available to us
Leave the session feeling calm, uplifted, balanced and positive.
Physical aches and pains may be relieved as the emotional components are cleared.
You can Purchase Single EFT Kits Below.
Have you ever been told that you should reduce your stress? Or that if you'd just let go of those limiting beliefs about money, you'll finally start receiving abundance and prosperity? Do you wonder why you seem to "sabotage" yourself in certain areas of your life or business, but don't mean to or want to? You feel you should shift this, or release that, or change your mindset about some other thing and you know you want to, but you just don't know HOW to do it! That's where Angelic EFT (Emotional Freedom Technique) can help do just that! And with the help of the angels!
A little about Angelic EFT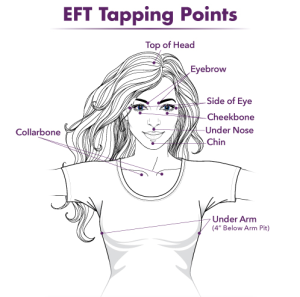 EFT (or as it is often simply known as "tapping") is a powerful technique that can have dramatic results. It is an energetic therapy that utilizes the meridian points in the body, in a similar way as acupuncture (although there are no needles used). All that is needed is a gentle tapping with your fingers on some of the points, combined with verbal statements relating to emotional or physical feelings. It is a gentle, yet powerful way to quickly release blocks, limiting beliefs, triggers, trauma, fears, and physical pain. It is quite effective on eliminating irrational or illogical beliefs or thought patterns that may be buried deep within. You may also start to notice physical issues begin to fade. Neck stiffness, headaches, and other discomforts may reduce or disappear as emotional issues and stress improve.
Angelic EFT blends the power of traditional EFT with the healing light and love of the angels. During the calls, Maryellen uses her gifts as an Angel Therapy Practitioner® and EFT Practitioner to bring forward a powerful insightful healing session that will help you to clear challenges, beliefs and emotions.
Sessions begin with calling in the angels and creating a sacred circle so that we are co-creating with Spirit. Maryellen is guided by the angels for bringing forth the wording and images during in the Angelic EFT tapping.
If you would like to learn more about EFT, you can get Maryellen's free EFT class here. HERE.
PURCHASE Single EFT Kits
Each Kit contains:
1. Audio MP3
2. Continue Your Tapping PDF
3. Tapping Point Diagram
4. Video on How to do EFT
After purchase, download details will be emailed to your inbox..

$14.95

Burnout to Balance: Transforming Stress and Overwhelm into Inner Peace and Calm

With guest speaker Lynda Monk, Coach and Speaker (CreativeWellnessWorks.com)

You will work on work on feelings of guilt and the self-sabotage so that you can take time to replenish, rest and renew. You will clear the fear of judgment from others (don't want to be seen as selfish) and gain self-awareness, knowing your own needs and limits, and honoring them. You will learn to say "no" to requests so that you can keep stress positively managed.
 
$14.95 

Procrastination

You will work on procrastination issues, and finally understand the real reason you can't get projects started, or are not able to finish tasks completely.  You'll clear away your reasons for inaction and replace "I should but can't" with "I can and I will".  You'll create a sacred balance so you hold yourself accountable without beating yourself up. You'll release the negative blocks and self judgment, and become eager to take on new challenges.

$14.95

Business Issues Common to Heart-Centered Entrepreneurs with special guest speaker Kim Turcotte, an 
Online Business Strategist and Solutions Expert.

You will work on your fear of technology and relax knowing that you don't have to understand every aspect of technology to take advantage of it.  You will become confident in the value of your gifts and remove the unhelpful beliefs that no one will want what you offer.  You'll gain the confidence to implement time-saving and client-attracting online strategies. You'll realize that the soul is calling your forward and that you can trust in your own inner wisdom to follow your passion and joy.

$14.95

Deeper Connections in Your Relationships
with guest speaker Minette Riordan, Ph.D.

You will work on your limiting beliefs about relationships. You will release past hurts 
that affect your perception of your current relationship so that you can look forward 
to a bright future of an exciting, loving and stable relationship. You'll open yourself 
to clear and loving communication. You'll let go of old beliefs and allow for better 
relationships to come to you.

$14.95

Taking care of YOU: body, mind, and soul

You will work on finding balance and harmony in your life. You will remove the feelings of guilt and selfishness.  You will learn to find balance, set aside "time for yourself" and become a priority in your life.  You will know that not "filling your cup" does not serve you, your loved ones or your clients. And, trust that you can still accomplish things in a refreshed and energized way.

$14.95

Connecting with your Creative Genius

You will work on enhancing your creativity and suppressing your harsh inner critic.  You will remove whatever is blocking your creativity, and learn to trust in the beauty and wisdom of your creations.  You'll tap into your Creative Angels so they can infuse your creations with blessings and Light, You'll have fun, and simply allow your creative genius to enjoy your creative magic.

$14.95 

Stronger connection with your angels (and your Angelic Business Team)

You will work on issues like self doubt.  You will remove your blocks and uncertainties and believe in your ability to connect and communicate with angels.  You'll clear obstruction in your Chakras and open the channels to receive love, insight and guidance from your angels. You will choose to have a beautiful relationship with the angels, and use your Angelic connection to bless and help others.

$14.95

Money Worries – Aligning with the vibration of abundance

You will work on issues like money worries and stress.  You will remove beliefs that block your flow of abundance and open yourself up to receiving.   With the help of the angels you'll raise your vibration and learn to trust in an abundant Universe.  Your beliefs will shift and good things will come your way.  
$88.00 Over 25% off

All Eight EFT Kits

Burnout to Balance: Transforming Stress and Overwhelm into Inner Peace and Calm
Procrastination


Business Issues Common to Heart-Centered Entrepreneurs with Kim Turcotte 

Deeper Connections in Your Relationships 
with Minette Riordan, Ph.D.


Taking care of YOU: body, mind, and soul
Connecting with your Creative Genius

Stronger connection with your angels (and your Angelic Business Team)

Money Worries – Aligning with the vibration of abundance
"You are the real deal! Your Angelic EFT is such powerful stuff. I'm still in a blissful state – amazing! Thank you, Maryellen!" – Dr. Lily Benavides, Social Scientist & Leadership Development Educator, www.YouthfulAging.info