I'm so excited to share that I now have giclees on canvas (similar to artist or printer's proofs) of two of my paintings. The giclee process is a fine art process using high quality inks and dies to match very closely to the original.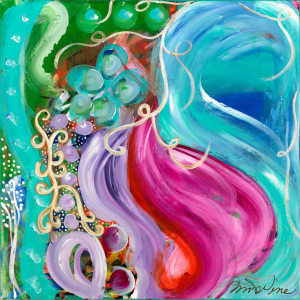 These two paintings were painted intuitively; layer upon layer…ever changing and shifting. Even bringing forth healing in me.
Each painting had the following used in the process:
Archangel Michael flower essence added to the paint water
Fresh flower petals added to the paint water
Angels and Guides called in to bless the painting and all who view it
The Angels and energies of the four directions (East, South, West, North) called in while painting the four sides to create sacred space where the painting resides.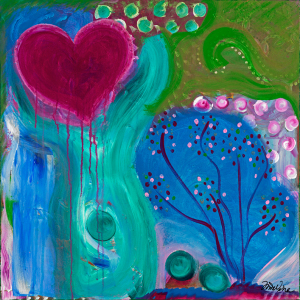 As the originals have hung in my house, I have noticed that they often have different messages or energies to share with me.
Let me first tell you a bit about when I painted the "Heart" painting:
When I was painting the layer when the heart showed up, I felt the need to be brave (our paintings are so often a metaphor for life!) I felt guided to pick up the spray bottle and spray water onto it. ("Oh no!" my inner critic thought. "That could ruin it!") But as I watched the paint drip, the song that "just happened" to be playing on the CD (that called to me to listen to as I painted, which I hadn't listened to it in YEARS) was the very powerful
song "Nessun Dorma"
. I sat looking at the painting, letting my tears flow. "Let it out; let it go; let the tears flow; let the protective coating melt away" is what it said to me. I received quite a healing from that painting!
As the painting hangs on my wall, there are times when it feels like it is helping me release and clear, and at other times it reminds me of my heart overflowing with love and gratitude.
I believe this is why my angels have nudged me to sell my art. The artwork holds the energies of the angels so that each person can receive their own messages, feel the energies they are meant to feel, and allow the paintings to bring them what they need at different times.
You can purchase giclees of these two paintings.
There are two options:
1. Gallery-wrapped canvas (over framing)
2. Unframed canvas to be framed yourself (this option keeps your shipping costs down)
Custom sizing available upon request for special order (up to 24" x 24"). Should you have questions, please feel free to email info@angelicjourneys.com.
"Joy" Size: 18" x 18"

Joy: Price unframed: $100 (plus shipping and handling in the USA)
Please note: Shipping out of the United States, please contact us first to get the shipping price at  – info@angelicjourneys.com

Joy: Price gallery-wrapped: $190 (plus shipping and handling in the USA)
Please note: Shipping out of the United States, please contact us first to get the shipping price at  – info@angelicjourneys.com
"Heart" Size: 18" x 18"

Heart: Price unframed: $100 (plus shipping and handling in the USA)
Please note: Shipping out of the United States, please contact us first to get the shipping price at  – info@angelicjourneys.com

Heart: Price gallery-wrapped: $190 (plus shipping and handling in the USA)
Please note: Shipping out of the United States, please contact us first to get the shipping price at  – info@angelicjourneys.com