Life sure can get busy! And then we can have stress or worries thrown into the mix. That sounds like a great time to use tools that can help us get centered.
I'm finally getting a chance to breathe a little after the whole ordeal with my son's accident. (I'm including below the video of a sports TV show piece done on my son and his accident. I'm a proud Mama

I find that I'm needing to do things that will "recharge my batteries" and "fill my cup". At first all I could do was sneak in naps when I could. But now I'm using creativity as an "active meditation" to help me get out of my head and to stop the world for just a bit.
Before writing this, I spent a few minutes doodling these vines. Drawing those simple leaves over and over was so relaxing and meditative.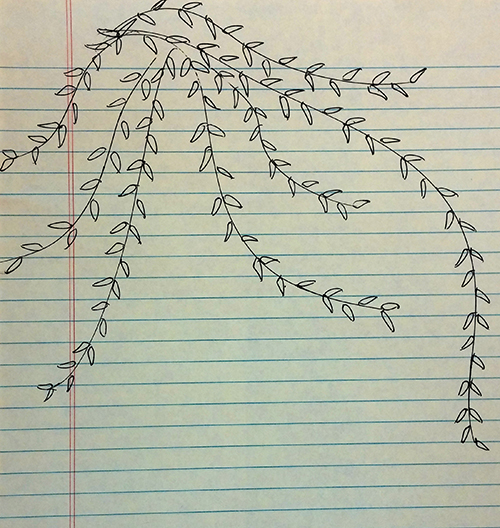 I've also joined an online intuitive painting class (by Chris Zydel). When her class announcement showed up in my email inbox a while back, I got a strong sense that this would be really good for me at this time.
I love that I can spend just 15 minutes a day painting. Since I'm using inexpensive tempura paints and mixed media paper, it helps keep away those thoughts about "wasting" expensive paint and canvases if the painting doesn't look "gallery-worthy".
These 15 minutes per day have been my active meditation practice. It doesn't matter how good or bad the painting looks ~ and I'm finding this to be such a liberating and freeing thing! I add a little more each day to the same painting for the week. This has proved to be a very healing process for me. Intuitive paintings hold energy in them. They share information and messages.
During the first week's painting, I couldn't stand how it looked! (That darn inner critic at work!) Each day added more mess and chaos. But by day 4, my painting became like an oracle card, and I jotted down these impressions:
"I see tears; chaos; the left side hot pink is bright and cheerful = how it was in the past; flung/splattered paint = anger at it happening; brown paint = "the crap that happened"; with brown/orange/gold orbs = angels and angelic assistance through it all; there has been Light shining brightly overhead, holding a safe and divinely protected space."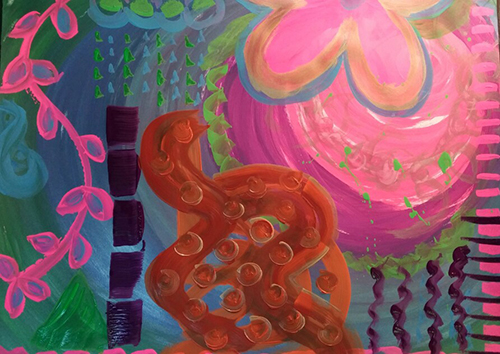 During the second week's painting, I found myself really enjoying the process – even when I felt it was not looking very great. It felt soothing to make purple and white twirls over and over with my brush that ended up looking like tears. On the last day of that painting, we were prompted to find parts of it that we did like. I found some bits that I liked, and appreciated it for being a vehicle for me to release and clear more and more. And now whenever I look at it, I find that the hot pink holds the energy of encouragement.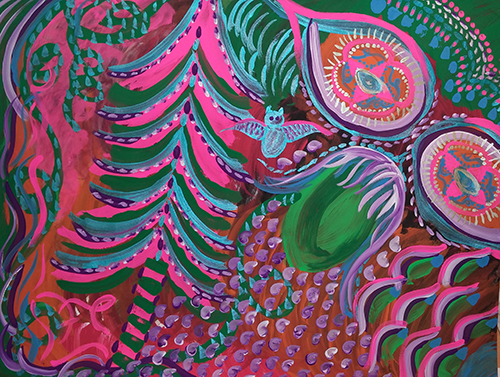 So, I encourage you to find some sort of active meditation for yourself. I also invite you to look again at these paintings to see if there might be a message in them for you; allowing them to be like oracle cards (where there can be a different message each time we pull a card and a different message for each person). I'd love to hear what your messages are.
You can watch the Cal-High Sports TV show story on my son, Nick and his recovery from the car accident.  https://youtu.be/mw4ua5VETaI